Welcome to The McGreal Family Photo Page - Wolff and Meyers photos
---
Photos supplied by Mary Liva

Who's Who

1 Abraham B. Wolff 1833 - 1918 .. +Emma Jane Layton 1835 - 1914 ........ 2 Estelle Wolff 1857 - 1936 ............ +Benjamin Meyers 1856 - 1926 ................... 3 Arno Wolff Meyers 1883 - 1962 ....................... +Rebecca Rena Cohen 1885 - 1908 ............................. 4 Miriam Rena Meyers 1908 - 1979 ................................. +Austin James McGreal 1905 - 1973 ................... 3 Emma Meyers 1886 - ....................... +Alfred E. Smith 1885 - ........ 2 Abraham Wolff 1865 - .............. +Addie ........ 2 William D. Wolf 1868 - ........ 2 Minnie Wolff 1873 - 1900 ............ +Mr. Zimmer ................... 3 Layton Zimmer 1899 - 1984
---
Abraham B. Wolff and Aunt Tillie (mother of Alfred Smith) date unknown, probably early 1900s.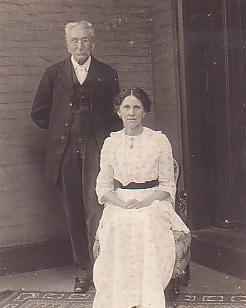 ---
Abraham Wolff, age 2, picture taken 1867.
---
Minnie and Estelle Wolff, ca. 1880.
---
Emma Meyers (holding dog), undated photo.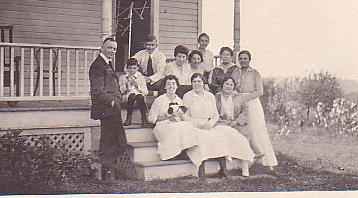 ---
Rear left to right - Emma Meyers, William Wolff, Addie Wolff, Abraham Wolff
Front left to right - Benjamin Meyers, Abraham B. Wolff, Layton Zimmer, Emma Layton Wolff, Estelle Wolff Meyers. About 1905.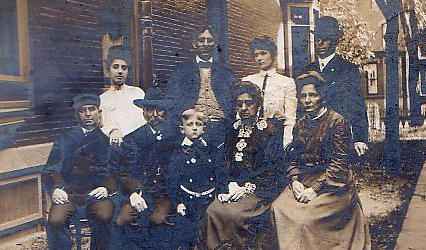 ---
The wedding invitation of Arno Wolff Meyers and Rena Cohen.
---
An invitation for Dr. William Wolff to a reception for President Woodrow Wilson, 1919. The Wolffs and Meyers were living at 62 Cumberland in Rochester at this time.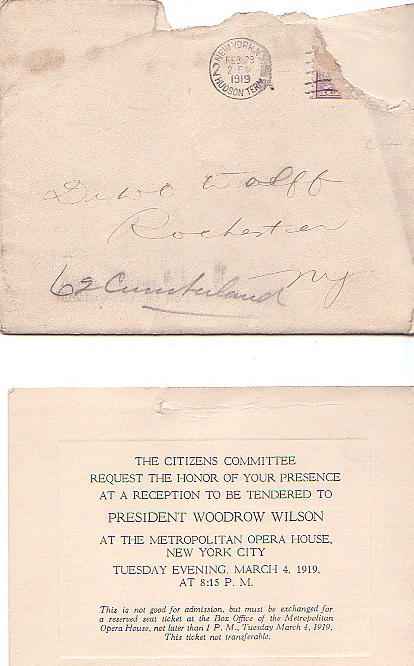 ---
62 Cumberland, Rochester NY. Undated photo, but I'm guessing it's around 1910 and the people in the photo are Abraham B. Wolff (in chair on right), women on the steps are Wolff and Meyers and small child is Miriam Meyers.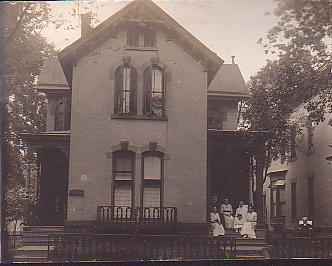 ---
Miriam, Emily, and Mary McGreal. 1934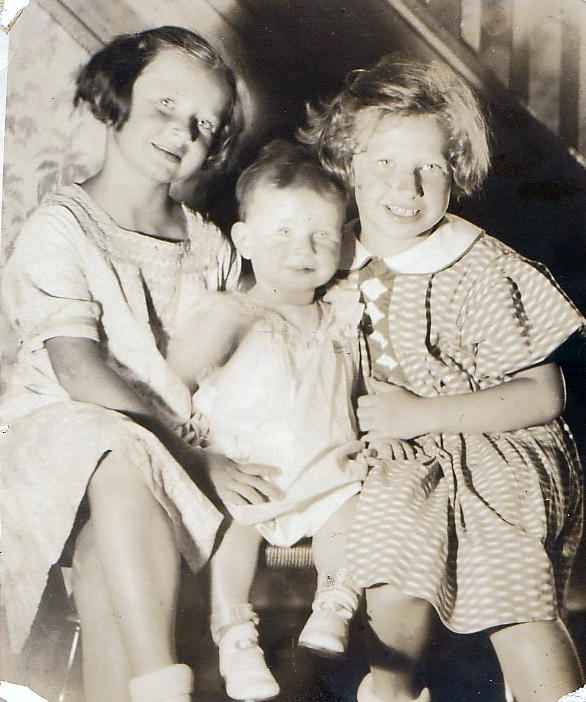 ---
1948 Austin McGreal with Henry Brayer, supervisor, J.P.Smith Printing Co.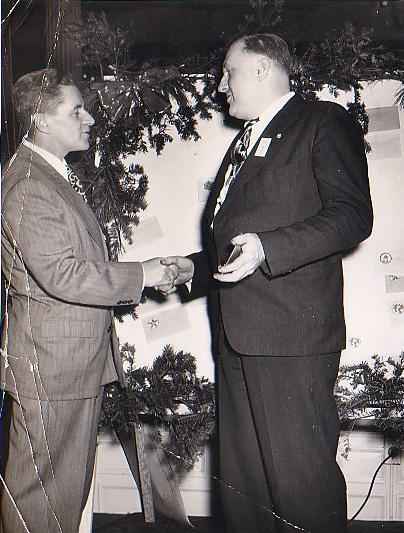 ---
You are visitor #
http://mcgreal-family.tripod.com/oldphotos6.html - Last updated Dec 16, 2002